Muir Woods National Monument
Use the park page to learn about local hiking, nature, trailheads, trail and route maps, and groups that meet here. If you know something about this area. Please feel welcome to write about it here.
General Information
Muir Woods is a national park located in Marin County. Muir Woods is named after a famous naturalist, botanist and conservationist John Muir, who lived about 100 years ago. The Muir Woods forest is one of Bay Area's last untouched old redwood forests. Congressman William Kent and his wife Elizabeth Kent, purchased the land bordering Redwood Creek in 1905, and granted it to the federal government, naming it after John Muir, and keeping the land's natural beauty preserved and intact.

Muir Woods trails are here to this day, offering a great variety of hikes, views and adventures for all people. There are hikes over 10 miles long and some hikes that are just short strolls. There are hilly slopes and straight walks. All the hikes are surrounded by unbelievable nature and beautiful redwoods that are unique to the Bay Area. There are many groups getting together for regular week or weekend hikes on the many different trails and hikes in Muir Woods. The woods feature many well known spots as well as some hidden gems. Some of the known attractions are Fern Creek, Dipsea trails, climbs high above Redwood Creek, and visiting Mt. Tamalpais State Park.
Trailheads
We currently do not have any record of trailheads in this park.
Routes and Trails You Can Travel
We currently do not have any record of good routes in this park.
Hiking
The initial hike in Muir Woods begins with a scenic, simply yet charming nature trail displaying gigantic redwood trees. The entrance trail leads to a walk by a small and pleasant creek where children are often seen playing little games. This part of Muir Woods has no hills, is accessible to everyone, and isn't far from entrance and most of civilization. There is about half a mile of relaxing strolling by the little creek to the beginning of the redwood forests with some of the gigantic trees becoming more frequent as the hikers approach the Bootjack trail which is really the beginning of real adventurous hiking. Before the trails begin, there are a few points of interest.

After leaving the entrance area and the Interpretive trail, and heading along the Bootjack trails, there is about a mile of of paths where there are still many tourists and children, just having a nice afternoon. As you keep walking and advancing through the forests, there will be less people along your way, and you will feel more and more engulfed by the redwood forest. As you walk along the trail you will find yourself unable to see too far in any direction because of the enormous and seemingly ancient trees.

Yet somehow, the hike isn't intimidating, but rather quite relaxing and almost spiritual due to the quiet surrounding, with the only sounds made by your feet, and the wind rustling the tall branches.
There are plenty of great places along the trails to stop and enjoy lunch (if you brought it) right in the forest. After about a mile, the path leads to a small meadow with a large rock, which is kind of a surprise due to the sudden appearance of this little enclave. It is a good place to take a break and move onto the next trails.

The Ben Johnson trail is known for being a bit challenging and is great for enthusiastic hikers. The very steep Johnson trail winds through the foggy woodlands to a windy ridge overlooking the Pacific Ocean all the way into the vast nothingness of the ocean as far as the eye can see across the ocean to the Farallon Islands. The ridge traces the border of the redwood forest and the grassland down the coastline. Looking in the other direction, the ridge has breathtaking views of the Golden Gate Bridge, Marin Headlands to even downtown San Francisco.

The Hillside Trail is a more rustic route through Muir Woods. Plus there are no hills to climb, which is often a plus and contributes to a pleasant hike. The trail is unpaved and is a little bit of a road less traveled in the world of Muir Woods hikes. More savvy hikers prefer this rout because you can gaze through the forest and add some unique views to the experience in addition to the ubiquitous redwoods.

Though the trail is easy as there are no large ascents or descents, but the terrain is at times rough, so wear heavy boots if you are going to venture out on this hike. Hikers have to be careful where and how they step because it is easy to twist an ankle or trip along the way - and there aren't many people there to help, so please use caution.

The Fern Creek hike is takes sightseers on great redwood forest paths that leaves the crowded Muir Woods floor to explore Fern Canyon and Camp Alice Eastwood. There are many hillside hiking trails like Mt. Tamalpais trails that wind along the floor of a beautiful, virgin redwood forest.
Trails
Climate and Weather
Caught exception: String could not be parsed as XML
History
John Muir is often cited for his famous quote that "in every walk in nature, one receives much more than he sees." While the quote's meaning is a bit mysterious, what John Muir was pointing out is that there is a lot of signs that the nature and the forest gives us. We get a lot of communication from the forest in little, subtle signs.
Wildlife
Muir Woods is home to many species of birds, animals, flowers and obviously the large redwood trees. Hikers can often spot deer and squirrels while hiking on trails. A popular bug that is often spotted on the trails is the Banana Slug which is common in coastal environments along the Pacific Ocean.
Birds
Trees
Muir Woods has a unique climate which allows the growth of gigantic Redwood trees. There is just the right mixture of rainfall, sunlight and fog to enable these trees to grow. Additionally, because the redwood trees are so gigantic, they create mini habitats underneath and around them, with intertwining root systems, nearby vegetation and wildlife. A popular little plant is the Redwood Sorel and it looks like a 3-leaf clover.

The Redwood Sorel's leaves close up if it happens to be in sunlight. It is a plant that thrives in reduced sunlight and living under the giant redwoods is perfect for it. The root systems of the redwood trees are also quite unusual. They have unusually shallow roots that spread much wider than other trees. By spreading wide, they begin to intertwine with the roots of other nearby trees, thus being stronger together.

The weather in the area can be extreme for the trees. There is 8 months of moisture and rain, and there is also about 4 months of arid weather. Often the trees get their water from the creeks nearby, but also the redwood trees get a lot of their water from the fog, of which there is so much in the Bay Area.

So for people who complain about the fog, keep in mind that the fog plays a large role in keeping the redwood forests alive. Because of the year-round fog, the redwood trees are able to live particularly in the Bay Area. They can grow to about 30 miles inland, potentially as far as Oakland or Berkeley, and as far down as the Big Sur around Santa Cruz.
Flowers
Other Plants
Camping Possibilities
Other Information
One of the talles trees in the park is the Gifford Pinchot Tree which stands at about 250 feet high. It isn't the tallest California tree. The tallest California tree is about 100 feet more, a few hours north of Muir Woods. The Gifford Pinchot tree is named after a man named Gifford Pinchot who was the first head of the United States forest service. Gifford Pichot was a conservationist and he felt that we should do our best to sustain the wildlife that we have. Gifford Pinchot went to college with a man named William Kent who had a dream for parks like Muir Woods, which preserve the national wildlife of America. William Kent purchased the land which is now Muir Woods with the last of his remaining fortune in 1905.

Even over 100 years ago, the redwood forests were disappearing all over the state and not growing back with nearly the speed with which they were being cut down. During the 1906 earthquake, many residents of San Francisco were left homeless and there was a need for wood to build homes. People wanted to cut down the Muir Woods redwoods, but after a long battle, William Kent, Gifford Pinchot and even Theodore Roosevelt agreed to save the forests and Muir Woods became a national monument and was not allowed to be cut down.
Parking
Driving Directions
Sausalito, California 94965
(415) 388-2595

Notes: parking is available for free and there are no picnic tables.
Start Your Own Hiking Group
Plan a Hike
Park Map
Photos From This Park
Upload Park Photos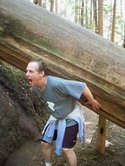 Hiking or Walking Groups Nearby
Group Name: test
Group Description: test
Group Description: Fun, social, urban hikes that end in a pub.
Group Description: Hiking!
Group Description: Sacramento-area based group with a preference for multiple-day excursions into the backcountry.
Group Description: Hiking in Pacifica. Splendid views on a sunny day. Hikes range 4 to 7 miles - some elevation (up to 625). Eat/drink at local places.
Group Description: This is a hiking group for the intermediate hiker! For a hiker that enjoys a relaxed pace, conversation, picture taking and the journey as much as the destination. We usually do between 4 and 10 miles with moderate elevation gain.
Come join us!
Group Description: This group is for all ages!! We do things from San Francisco to Santa Barbara and occasionally all the way to Los Angeles. Dinners, pot lucks, hikes, walks, bikes, camping, happy hours, treat yourself to a massage/spa treatment. Run into old friend! Everybody has to eat and exercise sometime – might as well do it in good company of others. As we see it, one of the reasons to create this group is for singles of all ages to get together and have fun. Struggling with Divorce? Meet other persons who are either anticipating or are in the midst of divorce, custody, or support-related issues and need some direction. Just broke up with a boyfriend/girlfriend. Well join the group! …or just killing times until Mr/Ms. "RIGHT" comes along! To those newly singled and are yet unsure what they want to do with their lives. We suggest a period of experimental single of growth where you can try a variety of new things, new friends, new attitudes etc... You just need to find what ....
Group Description: hiking in Muir Woods and other nearby areas. There is even a trail with a small bar at the end of it - join us!
Group Description: This is a group for short morning hikes
Group Description: Get Trail Smart! Roam offers one and two week backpacking learning vacations for women. We utilize National Parks and Wilderness areas across the U.S. as our "classroom". Have you ever wanted to see glacier fed lakes, long distance trails, dormant volcanoes, waterfalls, lush meadows, mountain streams, awe inspiring peaks…and have the confidence to accept every lesson Mother Nature provides? Roam will show you the way! Visit: www.roamthewoods.com for more information
Group Description: We are Santa Rosa-based, most outings are in Sonoma, Marin, and Napa counties. Mostly hiking, some paddling, camping, biking etc. See pictures and a list of past outings on our website. Click "Join NorthBayHikes.com" to sign up for email invitations to our outings.
Group Description: Fairfield, CA based Women's Hiking & Outdoor Adventure Group! The Amazon Group is a group for meeting other Women in their 20's and 30's who enjoy hiking, outdoors, and fitness. This group is for healthy/fit women who love to be outdoors and enjoy activities like: Hiking, backpacking, river-rafting, kayaking, and camping! Whether you are an experienced hiker or have never hiked before, join us! Other events include girl's night outs, hanging out, and day trips to fun new places. We also often stop at nearby places for good brews, food and conversation after hikes. Have fun while getting fit! Make new friends! Take time out of your busy life and get outside, and meet new people.
Group Description: Scenic hikes and challenging rock climbing along the Bay with views of the Pacific Ocean, Golden Gate Bridge, Presidio, and Sausalito. Good way to make friends with San Francisco locals and enjoy some good hiking!
Group Description: Hiking, Running, Skiing/Snowboarding and other outdoor activities
Group Description: Group for testing
Group Description: This group is for birding people in the San Francisco Bay area. I figure we can open it to everyone. I will not be the "leader", but I hope that each of you will step forward now and then to lead some kind of outing. Roy
Group Description: This is for our private group
Group Description: Creating an experimental hiking group. This group's hikes are tough :)
Group Description: Experienced hiker group who look for difficult, long and challenging hikes to get really great exercise, get in great shape and have a great workout!
Group Description: Group of professionals who can walk along the scenic Embarcadero from Market along the bay to Fishermans Wharf. We can start at 6pm at the Ferry Building which is at the end of Market street crossing Embarcadero. Address: 1 Ferry Building # 35 San Francisco, CA 94111-4230
Group Description: This group is for hikers who get Holidays off from work, such as Veterans Day, Columbus Day, Labor Day, etc. and want to spend the morning on a stroll in scenic Land's End! We meet on Bank Holidays at 10:15 on the North West Corner of 27th Avenue and California. Reminders will be posted on the hiking event calendar.
Group Description: This group is for people who want to be active and participate in helping to build trails, sustainable farming projects, planting trees, and working with other outdoor organizations and parks.
Group Description: If you own snowshoes and/or enjoy backcountry nordic skiing, this group might be for you. I'd like to plan Truckee/Tahoe snowshoe hikes (maybe also up north towards Lassen) this season 2010-2011. Members are not expected to be triathletes, but should be sufficiently fit to handle cold weather challenges. As excursions may include overnighters, I'd like to invite those who are conservation-minded and wouldn't think twice about picking up garbage they might see on the trail. Weekday trips are also in the works.
Upcoming Hikes
There are no upcoming hikes. Be the first to start one!
Past Hikes
Ultra Long Hike Which Requires Training | 9.2 km away
Date: Sunday, 3-7-2010
Description: I want to train with some people to do a really long and strenuous hike - maybe around 30+ miles. Maybe find some record to break :) Any ideas?
Castle Rock waterfall hike | 53.7 km away
Date: Tuesday, 1-4-2011
Description: Meet: 10am at Edgewood Rd. & I280 Park & Ride or 10:15am in Cupertino in the Homestead Square shopping center near the Homestead Square sign on Homestead Rd. or 10:45am at the main entrance 2.5 miles south of the junction of Hwy 35 and 9 ($8 to park in the lot, or you can park along the road outside at no cost)
Rancho San Antonio Tuesday hike | 47.7 km away
Date: Tuesday, 1-18-2011
Description: This hike near Cupertino, in one of the most popular parks on the peninsula/south bay, offers great views of the bay area. Bring plenty of your favorite beverage, sun protection, and lunch or a snack. We'll hike to the bench at the top of the PG&E trail. Directions: From 280 just north of 85, take Foothill Blvd. toward the hills, right at the first light onto Cristo Rey Dr., then around and out the far side of the traffic circle. Turn left when you see the sign for Rancho San Antonio County Park. Follow the entrance road to the right past several parking areas, then left down the hill to a bigger parking area. If that's full, park in one of the lots back up the hill.
Shipwreck Hunt During Low Tide | 9 km away
Date: Saturday, 1-29-2011
Description: The original shipwreck hunt was a very popular event, so we are scheduling another event to see the two ships that can be spotted in the ocean during low tide! We will meet at: 870 El Camino Del Mar, San Francisco, California That is the trailhead. The hike is 2 miles each way. The terrain is pretty easy, but in the middle there are few mid-sized hills. Here is a page describing Lands End: http://www.hikingsanfrancisco.com/san_francisco_hikes/lands_end_national_park.php
Tuesday hike | 75 km away
Date: Tuesday, 2-1-2011
Description: Henry Coe is the second-largest state park in California. Thanks to Ann for suggesting this park east of Morgan Hill for a change. This will be a 9-miler with about 1500' of elevation gain. We'll explore several of the trails in the western section. Bring a pole for creek crossing, lunch, plenty of water or other suitable hiking beverage, shoes with good traction, and a jacket or suitable clothing in case it's cold and/or windy. Meeting locations: 10am Edgewood P&R 10:30 Homestead Square in Cupertino
Alviso Slough loop | 46.1 km away
Date: Sunday, 2-6-2011
Description: Meeting point Alviso Marino park - there must be parking there.It is easy hike 9-10 miles along Alviso slough. It is 100% flat. Hope it will be good bird watching opportunities. You can bring small lunch with you or we may decide to try Alviso town restaraunt
Tuesday hike | 43.3 km away
Date: Tuesday, 2-8-2011
Description: Meet 10am Edgewood P&R near, 10am Homestead Square shopping center Cupertino, 10:15 Page Mill P&R, or 10:30 at Orchard Glen picnic area in the park.

Water and restrooms at the start.

park map: http://www.cityofpaloalto.org/civica/filebank/blobdload.asp?BlobID=8505

back to Page Mill & I280 by 3:30.
Shipwreck Hunt Hike | 9 km away
Date: Sunday, 2-13-2011
Description: Since this was such a popular event last time, we will be doing this hike again. The hike is scheduled specifically during a time of low tide when tops of two drowned ships can be seen. One ship is during the middle of the hike and the other ship is at the end of the hike. The event is free, but donations on the site or at the event are appreciated since it takes a lot of time and effort to organize the event. Here is a link to Lands End to see what you can expect: http://www.hikingsanfrancisco.com/san_francisco_hikes/lands_end_national_park.php Children are welcome on this hike, but must be closely supervised by their parents.
Pulgas Ridge/Edgewood Tuesday hike | 33.6 km away
Date: Tuesday, 2-15-2011
Description: Here's my tried and true hike for threatening weather. Showers or rain are expected Tuesday, so I've picked this two-parter in case it becomes more than showers. Pulgas Ridge Open Space Preserve and Edgewood County Park hike Tue February 15 10:30am-3pm 4 or 8 miles, 800 or 1600 feet elevation gain Meet 10am at Homestead Square shopping center in Cupertino. Meet next to Homestead Rd. near the Homestead Square sign. or meet 10:30am at the Pulgas Ridge parking lot (directions below) Edgewood County Park info http://www.co.sanmateo.ca.us/smc/department/home/0,,5556687_12305995_12328420,00.html Pulgas Ridge info http://openspace.org/preserves/pr_pulgas_ridge.asp Here's a great combination hike, with gentler trails than I typically lead. We'll start at Pulgas Ridge, where we'll hike up, down and around through this Open Space preserve. Then we'll head across Edgewood Rd. to Edgewood Park, where we'll have lunch near the restrooms. After lunch, we'll hike up around the rid ....
Cannons, Ecology and Palace of Fine Arts Hike at the Presidio | 10 km away
Date: Sunday, 2-20-2011
Description: This will be a really beautiful and historic hike through the Presidio. We will meet at the Arguello Gate, walk along the Ecology Trail, then through the army base to see the old Officers Homes and a display of historic cannons used by the army. We will then go to the Palace of Fine Arts for a break and a little snack (10-20 minutes), and then we will head back. Here is some information about the Presidio: http://www.hikingsanfrancisco.com/san_francisco_hikes/the_presidio.php
Shipwreck Hunt Hike | 9 km away
Date: Sunday, 2-27-2011
Description: Since this was such a popular event last time, we will be doing this hike again. The hike is scheduled specifically during a time of low tide when tops of two drowned ships can be seen. One ship is during the middle of the hike and the other ship is at the end of the hike. The event is free, but donations on the site or at the event are appreciated since it takes a lot of time and effort to organize the event. Here is a link to Lands End to see what you can expect: http://www.hikingsanfrancisco.com/san_francisco_hikes/lands_end_national_park.php Children are welcome on this hike, but must be closely supervised by their parents.
Presidio Ridge Trail To Golden Gate Bridge | 10 km away
Date: Sunday, 3-13-2011
Description: This will be mid-difficulty hike. We will meet at the Arguello gate and hike along the (relatively newly built) Ridge Trail which is very scenic. The hike goes to the bottom of Golden Gate Bridge.

Once we get to the bridge, we will go back along the same path to where we started.
Arrowhead Marsh Bird Walk | 21.9 km away
Date: Sunday, 3-20-2011
Description: This walk is by Arrowhead Marsh near the Oakland Airport. The area is popular with birders because of winter waterfowl population, and frequent sighting of California Clapper Rails. We meet at 1:00 pm in the main parking lot. From 880, head toward the Oakland Airport. Turn right at Pardee Drive, then left on Swan Way, and right to enter the park. Ignore the first 2 parking areas, and continue to the end of the road by the observation tower. Approach the water. I will be sitting on the fishing dock, wearing a dorky white hat with a cape. High tide is at 1:42 pm, offering a good change of seeing a clapper rail or two. If that fails, we can try again in the late afternoon. Meanwhile, we can wander about various pond and shoreline areas to observe a variety of waterfowl. Here is a link to park information and a park map. http://www.ebparks.org/parks/mlk All walking is level and paved. Bicycles are allowed. Distance depends on what we care to do. The loop around the New Marsh and seasonal p ....
Lost in the Presidio Hike Adventure | 10 km away
Date: Sunday, 3-27-2011
Description: This will be an experimental hike where we take trails we don't really know and see if we get lost, and can find our way back. Do not worry! The Presidio is not very big and I know it pretty well. So really, we won't be very lost. But it will be fun to orient ourselves and see if we can figure out different trails in a somewhat unusual and experimental situation where everyone can contribute. We will meet at the Arguello gate. There is plenty of parking on the streets there.
Musical Chairs Presidio Hike | 10 km away
Date: Saturday, 4-2-2011
Description: To make the hike more fun and social, we will do some experiments with playing musical chairs with whom you hike next to, and who leads the hike. The focus will be on making it fun, healthy, social, and creative. Game suggestions are welcome The hike will be through many different Presidio trails. There is plenty of parking on the streets.