Hiker Public Profile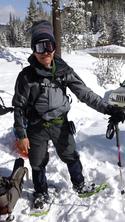 Patrick Kelly
I do some backpacking in the summer but since 2008 my first choice is snowcamping. I have done 3 or 5 snowcamping trips per year, to Lassen, Carson Pass, StanislausNF and Yosemite. Eager for new venues. Last year I built a pulk. Interested in outdoor photography. I am a grandfather, wilderness 1st aid certified, and reside in San Ramon.
Organizer for These Hiking Groups
This member has not created any hiking groups.
Member of These Hiking Groups
Group description: East Bay has some great hikes. The weather is warmer than San Francisco and the terrain is usually different than North Bay Muir Woods area. It is also pretty convenient for people who live in East Bay because they do not have to cross any bridges!
Group description: If you own snowshoes and/or enjoy backcountry nordic skiing, this group might be for you. I'd like to plan Truckee/Tahoe snowshoe hikes (maybe also up north towards Lassen) this season 2010-2011. Members are not expected to be triathletes, but should be sufficiently fit to handle cold weather challenges. As excursions may include overnighters, I'd like to invite those who are conservation-minded and wouldn't think twice about picking up garbage they might see on the trail. Weekday trips are also in the works.
Hikes attended by PatrickKelly
This member did not attend any hikes.
Hikes Led by PatrickKelly
Hike description: Sunday 8:30 a.m. Meet and park at Briones Regional Park, Lafayette Ridge staging area on Pleasant Hill Road, approximately 0.5 mile north of the Lafayette exit off Rt.24. Meet me on the streetside of the parking lot (refer to the photo below). ROUTE: Briones-Mt.Diablo Regional trail through the Acalanes Open Space. See views of Carquinez Strait. Follow the trail under I680, along the canal to Heather Farms Park in Walnut Creek. Take a break and return. Moderately fast pace. One way distance is 4 miles. The first mile includes a strenuous hill climb of several hundred feet. Much of the trip is through open spaces and suburban settings. I scouted the west side of the route last week, and found no facilities along the route. There are some parks nearby that likely have them. Bring a liter or two of water. Let me know if you are coming and I will wait a few minutes for stragglers. Patrick Kelly
Hike description: Weather-permitting we will see abundant wildflowers, star-filled night skies, full moon.\\r\\nHike from Summit Spring Trailhead in the Mendocino National Forest through the Snow Mountain Wilderness. 4 miles and about 2,000 feet elevation gain to the Summit Basin campsite. About 2 more miles and a few hundred more feet elevation to reach the East summit. Friday night - night sky photo opportunity. Saturday explore the mountain and photograph the wildflowers. Break camp about 9:00 a.m. on Sunday morning to be back in the Bay Area before dark.
Hike description: Do a loop hike through the marked trails originating at Bear Island campground. Approximate distance would be 4 miles depending on weather. Camp at Bear Island for the night of July 20. More hiking on July 21 near Midway campground. Camp at Trail Lakes on night of July 21.
Hike description: around the Lafayette Reservoir
Hike description: Regency Drive Trailhead to Mt.Diablo summit. Around the summit to Junipter campground and return via Deer Flat return.
Member Location
Latitude: 37.762463 | Longitude: -121.981438
50 Parks Near User Location
Bollinger Canyon
Athens Downs Park
Watson Canyon
Harlan Hill
Wiedemann Hill
Boone Acres Park
Osage Park
Dublin Hills Park
Sycamore Valley
Norris Canyon
Walshs Pocket
Sycamore Valley Park
Sunny Glen Recreational Area
Shannon Park
Koopman Canyon
Kolb Park
Bret Harte Park
Donlan Point
Hollis Canyon
Martin Canyon
Mape Park
Stagecoach Park
Boon Hill
Donlan Canyon
La Vista Park
Little Hills Ranch Recreation Area
Dublin Canyon
Devany Canyon
Green Valley
Ramage Peak
Eden Canyon
Palomares Canyon
Hedd Canyon
Las Trampas Wilderness
Dan Cook Canyon
Cull Canyon
Bay Trees Park
Moller Park
Independent Park
San Ramon Valley
Miller Canyon
Don Castro Recreation Area
Artist Point
Emmons Canyon
Crow Canyon
Eastbay Regional Park
Tehan Canyon
Muirwood Park
Cities To Hike Nearby
San Ramon
Brookshire
San Ramon Village
Danville
Dublin
Komandorski Village
Diablo
Alamo Oaks
Blackhawk
Rock City
Alamo
Tassajara
Castro Valley
Asco
Ashland
Walnut Heights
Cherryland
Pleasanton
Radum
Sorenson
Upcoming Hikes Near Member Location