Hiker Public Profile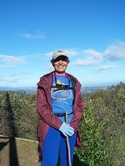 Ranjana Sharma
Love Rex's Hiking group. I have made a lot of good friends there, and like his leadership. Thanks
Organizer for These Hiking Groups
This member has not created any hiking groups.
Member of These Hiking Groups
Group description: This is for our private group
Hikes attended by RanjanaSharma
Hike description: VP hikers, The weather on Sunday is iffy, to say the least. With that said, our best decision is to meet at 6200 South and decide from there. DOGS: Lets leave the dogs home, giving us more choices for snowshoeing. WEATHER ISSUES: If we need to cancel the snowshoe because of bad weather, I will send out an email by 8:00 AM Sunday morning. So check your email before you go. DIFFICULTY: Unsure ELEVATION GAIN: Unsure ROUND TRIP MILES: 4-5 miles LUNCH WITH A VIEW: Don't forget to bring a lunch, sunscreen and water. MEETING and LEAVING AT 9:00 A.M. (come 15 minutes early to socialize) We are meeting at the 6200 South Park-n-Ride, off Wasatch Blvd. This is NOT the parking lot at the mouth of Big Cottonwood Canyon. It's the one just north of the sand pit. DRIVERS: If we have a large number of hikers, please consider being one of the drivers. From the parking lot, we will carpool. Please help your drive with the gas expense. YOUR HIKING LEADER: Conley...
Hike description: This will be super-low-tide and I think the ships will be most visible exactly at this time and date of the month. We will also probably catch the sunrise. The hike is very early in the day, so if we will all be awake we will have a little historic talk and about an hour hike. After that we will all probably take the bus to work together. :) I am very excited about this particular tide because it is supposed to be extremely low. There is plenty of parking in the area, and we will all gather at the sign which says Lands End.
Hikes Led by RanjanaSharma
This member did not lead any hikes.
Member Location
Latitude: 37.780182 | Longitude: -122.517349
50 Parks Near User Location
USS San Francisco Memorial
Sutro Heights Park
Queen Wilhelmina Tulip Garden
Cabrillo Playground
Bercut Equitation Field
James D Phelan Beach State Park
Fulton Playground
Rochambeau Playground
Baker Beach State Park
Argonne Playground
Richmond Playground
George Washington Bicentennial Grove
Sunset Recreation Center
Sunset Playground
Strawberry Hill
Rob Hill
Redwood Memorial Grove
Mountain Lake Park
Japanese Tea Garden
Strybing Arboretum
Music Concourse
Shakespeare Garden
Arguello Park
Grand View Park
Presidio Hill
South Sunset Playground
Marin Headlands State Park
Mount Coppin Square
Rossi Playground
Hawk Hill
Sunset Heights Park
Kezar Stadium
Murphy Playground
Pine Lake Park
Kahn Playground
Lone Mountain
Larsen Park
Sutro Forest
Mount Sutro
Ignatius Heights
Laurel Hill Playground
Sigmund Stern Recreation Grove
Gerbode Valley
Presidio Heights Playground
Grattan Playground
Midtown Terrace Recreation Center
Panhandle
Cities To Hike Nearby
Fort Winfield Scott
San Francisco
Sausalito
Daly City
Marin City
Waldo
Financial District
Broadmoor Village
Muir Beach
Broadmoor
Tamalpais-Homestead Valley
Belvedere
Belverde
Tamalpais Valley Junction
Tamalpais Valley
Harbor Point
Tiburon
Almonte
Hilarita
Fort McDowell
Upcoming Hikes Near Member Location