Hiker Public Profile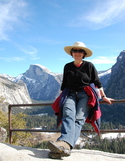 Laura
So far this hiker has no bio.
Organizer for These Hiking Groups
This member has not created any hiking groups.
Member of These Hiking Groups
Group description: Scenic hikes and challenging rock climbing along the Bay with views of the Pacific Ocean, Golden Gate Bridge, Presidio, and Sausalito. Good way to make friends with San Francisco locals and enjoy some good hiking!
Group description: East Bay has some great hikes. The weather is warmer than San Francisco and the terrain is usually different than North Bay Muir Woods area. It is also pretty convenient for people who live in East Bay because they do not have to cross any bridges!
Group description: This group is for hikers who get Holidays off from work, such as Veterans Day, Columbus Day, Labor Day, etc. and want to spend the morning on a stroll in scenic Land's End! We meet on Bank Holidays at 10:15 on the North West Corner of 27th Avenue and California. Reminders will be posted on the hiking event calendar.
Hikes attended by Laura
Hike description: NOTE: This event is usually on Wednesdays, however, we are moving to THURSDAY for two weeks (6/28 & 7/5). FREE Pub Crawl! FREE to enter Rock Paper Scissors Tournament! PRIZE: Tournament champion wins $100 bar tab! DRINK SPECIAL: Option to get drink tix at the start of the pub crawl valid for $3.50 premium beers/wells at all bars. DRESS TO COMPETE: Prizes for best athletic wear. --> Compete in Rock Paper Scissors tournament qualifying rounds while moving from bar-to-bar. Meet new people while earning points to compete in the finals at the last bar. --> Top players from qualifying rounds plus several wild card players compete at the final bar. Champion receives $100 in bar tabs! --> Soul/Funk/Old School Dance Party following tournament. 'Like' us on Facebook *and* RSVP you're attending and get a $1 Obamarama Shot! LIKE: https://www.facebook.com/beerpubcrawl RSVP: https://www.facebook.com/events WHEN: Every WEDNESDAY - except we are moving to THURSDAY for 6/28 &...
Hike description: Ring in Cinco de Mayo at the Beer Olympics! $2 Tequila Shots! $3 Margaritas! And as always, 5 Beers for $10! Compete against the team with the matching Sombrero. FREE to play! FREE entry to Impala night club! Games: Flip Cup, Beer Pong, Relays Win Prizes! --> Everyone's placed on a team based on your country (to make it easy to meet people). --> Teams compete at flip cup, relays, and beer pong. --> Play -or- just watch, drink cheap beer and be social! Meet & compete against travelers, locals, au pairs and students! After the games and awards ceremony, head upstairs for free entry to Impala night club! (Save $20 Cover) 'Like' us on Facebook *and* RSVP that you're attending & your 1st beer is $1 LIKE US HERE: http://tiny.im/10k RSVP HERE: https://www.facebook.com/events/333259560057096/ WHEN: Every Friday, but this Friday is Cinco de Mayo Beer Olympics! WHERE: Impala - 501 Broadway St, corner of Kearny St & Broadway (Go DOWNSTAIRS and signup with the Beer Ol...
Hikes Led by Laura
This member did not lead any hikes.
Member Location
Latitude: 37.780182 | Longitude: -122.517349
50 Parks Near User Location
USS San Francisco Memorial
Sutro Heights Park
Queen Wilhelmina Tulip Garden
Cabrillo Playground
Bercut Equitation Field
James D Phelan Beach State Park
Fulton Playground
Rochambeau Playground
Baker Beach State Park
Argonne Playground
Richmond Playground
George Washington Bicentennial Grove
Sunset Recreation Center
Sunset Playground
Strawberry Hill
Rob Hill
Redwood Memorial Grove
Mountain Lake Park
Japanese Tea Garden
Strybing Arboretum
Music Concourse
Shakespeare Garden
Arguello Park
Grand View Park
Presidio Hill
South Sunset Playground
Marin Headlands State Park
Mount Coppin Square
Rossi Playground
Hawk Hill
Sunset Heights Park
Kezar Stadium
Murphy Playground
Pine Lake Park
Kahn Playground
Lone Mountain
Larsen Park
Sutro Forest
Mount Sutro
Ignatius Heights
Laurel Hill Playground
Sigmund Stern Recreation Grove
Gerbode Valley
Presidio Heights Playground
Grattan Playground
Midtown Terrace Recreation Center
Panhandle
Cities To Hike Nearby
Fort Winfield Scott
San Francisco
Sausalito
Daly City
Marin City
Waldo
Financial District
Broadmoor Village
Muir Beach
Broadmoor
Tamalpais-Homestead Valley
Belvedere
Belverde
Tamalpais Valley Junction
Tamalpais Valley
Harbor Point
Tiburon
Almonte
Hilarita
Fort McDowell
Upcoming Hikes Near Member Location