Hike Location and Carpool
Sunday September 11 2011
Hidden Gems: 3 Unexpected City Parks with Gorgeous Views of the City
Organized by
Location

900 Cole Street corner of Carl/Cole

Time

12:00 PM - 2:00 PM

Miles

5

Feet of Elevation

Not Set

Group

Meeting Address

900 Cole Street corner of Carl/Cole

Contact Phone

415-937-0287
Will You Join? To RSVP,
I am bringing guests
Hike Description:
We will meet at Carl/Cole in front of Kezar Bar & Grill. We will then walk to Mt. Olympus (it's an odd little park but you get to climb up some cool stairs), criss cross back to Corona Heights Park (WOW just discovered this gem it has incredible views and feels like you are in the mountains) then of course we need a little more up in the Buena Vista Park (this park rocks and has a multitude of stairs for the extra butt workout). Return to Carl/Cole.
Recommended Clothing:
Bring water. Wear layers. It's San Francisco people.
Recommended Food:
Cancellation Condition:
Will cancel only if hailing.
Dogs Allowed:
No
Hike Photos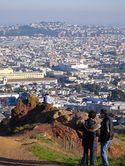 Have photos from this hike?